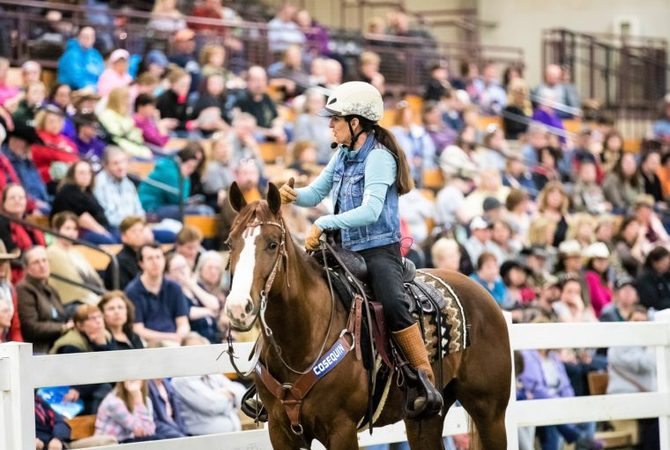 Equine Affaire-Massachusetts turns 25 this year! Created by equestrians for equestrians, the four-day horse expo has been "elevating the equestrian experience" in the Bay State since 1998, providing equine-themed education, entertainment, networking opportunities and more to hundreds of thousands of horse lovers from around the world.
This November 9-12, horse lovers can bring the whole barn to the Eastern States Expo in W. Springfield, MA, to enjoy a special edition of North America's premier equine expo and equestrian gathering. This year's event is brimming with educational clinics, kids' crafts, a trade show, competitions and more–plus a host of new additions and celebratory anniversary surprises.
'Fantasia,' vouchers and more
Equine Affaire's musical celebration of the horse, "Fantasia," sponsored by Absorbine, is also returning November 9-11. Advance tickets for this special show are going quickly, so purchase yours today at equineaffaire.com.
In addition, this year's Equine Affaire offers the following:
In honor of its 25th anniversary, Equine Affaire will be distributing a limited supply of vouchers to the first 2,500 guests to come through the gates of the Eastern States Exposition. Each voucher will be good for 25% off one item of Affaire Wear at the Equine Affaire Information Booth.
The Great Equestrian Fitness Challenge is a brand-new competition that's free to enter for all Equine Affaire attendees, no horse required. Happening Saturday, November 11, at 1 pm in the Mallary South Arena, the GEFC will feature a barn chores marathon, a bouncy pony race and a horse nugget relay.
Support your favorite trade show exhibitors through the inaugural Best Booth Award contest. During the event, the Equine Affaire staff will select a class of finalists representing the "best booths" in the trade show. Then they will host an online contest via their Facebook page to allow attendees to vote for the Best Booth at Equine Affaire.
The Equine Affaire Exceptional Educator Award recognizes presenters and clinicians who have demonstrated an extraordinary dedication to providing top-tier education to audiences and riders at Equine Affaire. The Exceptional Educator Award has been conferred only a handful of times. Who will receive it in 2023? Come to Equine Affaire to find out.
Every year, Horse Week unites the equine industry for the free equine streaming event of the year, showcasing documentaries, horse care and training videos, and more on horseweek.tv. This year, the week-long film festival takes place November 5-11, 2023. Make sure to join Equine Network at the Seminar Stage on Thursday, November 9, for a special Horse Week Viewing Party starting at 5 pm.
Equestrians in Motion, sponsored by Blue Seal-Sentinel, is a new series of in-person equestrian fitness workshops that will take place on Thursday, Friday, and Sunday of the event. It's free to participate, but there are limited slots available. Visit https://www.ifafit.com/lib to sign up.
The free Equine Affaire raffle includes prizes from companies like Dubarry of Ireland–USA, Back On Track, October Design Equestrian Décor, Blue Seal-Sentinel, US Equestrian and Equine Affaire. It's free and easy to enter, and you need not be present to win. Enter online before November 13, 2023, for your chance to win: https://equineaffaire.com/events/massachusetts/mass-other-features/mass-free-raffle/.
Tickets, participation and sponsors
For more information, visit www.equineaffaire.com/events/massachusetts. Tickets for Equine Affaire and "Fantasia" are available online or by calling (740) 845-0085.
if you're interested in participating in Equine Affaire, you can bring horses for sale, exhibit in the trade show, consign gently used horsey gear in the Marketplace Consignment Shop, apply to distribute advertising materials on the distribution tables, participate in the Breed Pavilion or Horse & Farm Exhibits, and more. Visit the Equine Affaire website or call the office for more details.
Equine Affaire 2023 is sponsored by Absorbine, US Equestrian, GGT Footing, Horizon Structures, Fair Hill Saddlery, Tribute Equine Nutrition, LRP Matting, Chewy, Triple Crown Nutrition and Blue Seal-Sentinel.